Team Melli left back and ex-Persepolis player, Mehrdad Pooladi has been declared as a free agent.
Pooladi was involved in a long dispute after the conclusion of the FIFA World Cup 2014 with Persepolis. While the players has repeatedly said that he is a "Free Agent" as his contract with the club has expired by the end of last season, Persepolis insisted that Pooladi is contract bound and must report back to duty and training else they will take disciplinary measures against him. In the meantime, Pooladi was seeking a new club.
Although there has been some interest from Europe, Mehrdad Pooladi , who was the best performing Iranian player in the World Cup , failed to conclude any deal in Europe. The next destination was closer to home. Al Shahaniya club of the Qatar Star League promptly showed interest and began verbal negotiation on the knowledge that Pooladi is available. The two sides were close to agreeing terms except that Al Shahaniya demanded a release in form of ITC from Persepolis as a condition for recruiting the Iranian defender.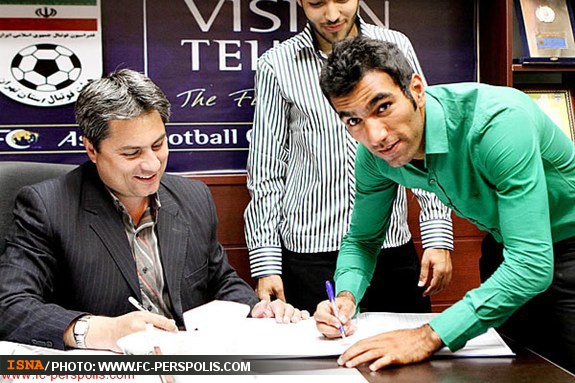 Persepolis refused to release the player or cooperate with the Qatari club. With time running out to the closing of the transfer windows, Al Shahniya withdrew their offer to Pooladi due to lack of progress and documentations issues and instead the newly promoted team to the QSL , signed Pooladi's compatriot and Team Melli teammate , Masoud Shojaei. 
Pooladi took his case to the Board of Arbitration of the FFIRI. Today the board issued a statement declaring him as Free Agent. The Board also declared that Pooladi's financial settlement with Persepolis club is still unresolved and not settled. According to the contract, Pooladi is still to receive a substantial payment from the club outstanding from last season.
On a side note, The newly appointed Persepolis coach , Hamid Derakhshan was asked yesterday by a reporter about  the whereabouts of Mehrdad Pooladi and the reason for his absence from the team's training session. Instead of speaking facts and truth, Derakhshan attributed Pooladi's absence to the problems he has with the Military Service Release Form (…) !